Overview
We enable you to get the money owed to your business faster, and to keep money employed in your business longer
Full Service Trade Finance Platform
Strengthen your financials
Maximise Cash in / Minimise Cash out
Cash is the life-blood of your business.
But, bringing cash into your business is often a challenge.
We can help you improve your business cash flow, by giving you access to the cash required to fund your current operations and future business expansion.
We enable you to get money owed to your business faster, and to keep the money employed in your business longer.
Our Trade Finance Platform, linked to multiple funding sources, provides easy access to competitive and flexible financing.
Our Platform
Our cloud-based Trade Finance Platform, enables us to get you up and running quickly, avoiding expensive and time-consuming IT projects.
All we need is access to your invoice data, which can be presented either directly from your accounting system or via an invoice aggregator.
We support you in securing the best funding terms for your business and handle all settlement and reporting activities related to your funding.
We also provide all the ancillary services necessary to manage a full service trade finance programme:
contract form
credit insurance
accounts receivable collection
data analytics
Our Products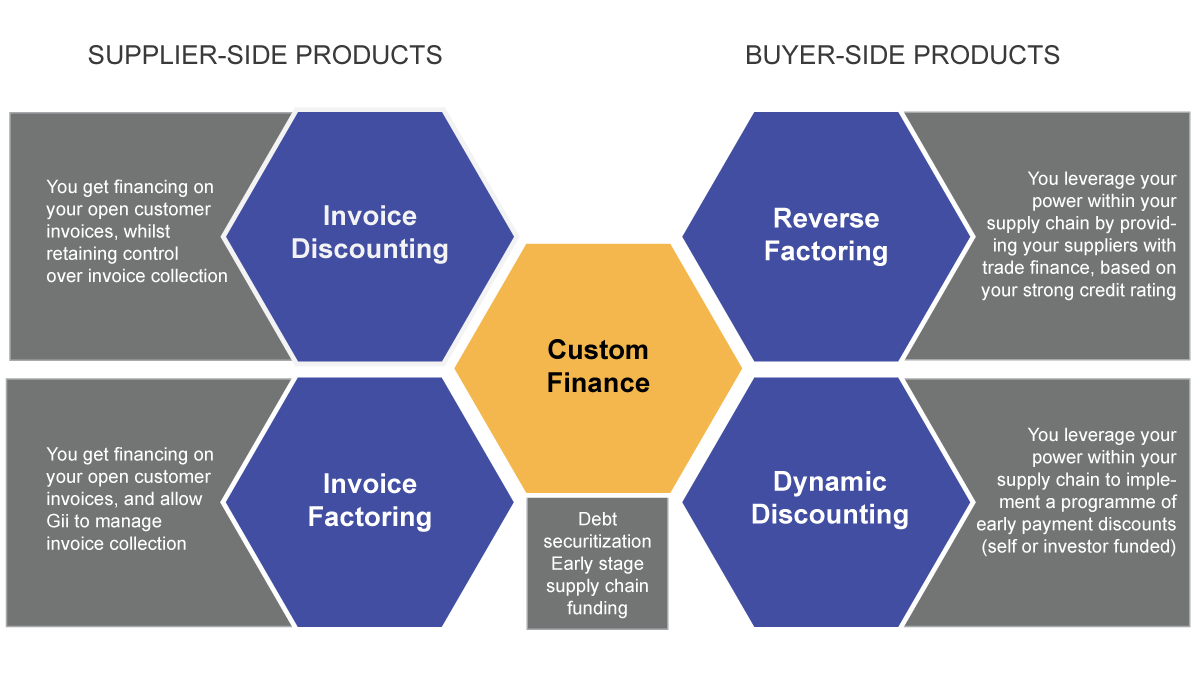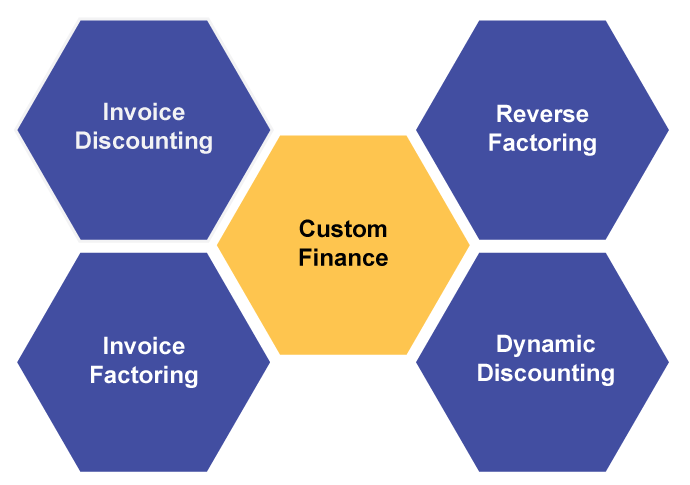 Supplier-side Products
Invoice Discounting
You get financing on your open customer invoices, whilst retaining control over invoice collection.
Invoice Factoring
You get financing on your open customer invoices, and allow Gii to manage invoice collection.
Buyer-side Products
Reverse Factoring
You leverage your power within your supply chain by providing your suppliers with trade finance, based on your strong credit rating.
Dynamic Discounting
You leverage your power within your supply chain to implement a programme of early payment discounts (self or investor funded).
Our Offering
Efficient - Our trade finance products offer a very efficient, flexible form of business finance, which can expand and contract in line with your business cycles.
Flexible - Your finance is linked directly to your trade flows, supporting cash flow improvement and working capital reduction programmes.
Cost Effective - Unlike overdrafts and other traditional forms of business finance, where you pay for borrowing facilities whether you use them or not, you only pay for what you use.
Open - Our trade finance products do not require director's guarantees or charges over vital business assets.
Your Business Case
Our products enable you to:
Prevent cash shortfalls – ensure cash is available to cover key business expenses, such as staff wages and payments to key suppliers.
Help fund large cash outflows - business restructuring, servicing of existing debts and tax commitments.
Free up cash to invest in business growth.
Reduce procurement spend - strengthen your balance sheet and income statement.
Strengthen relationships with key suppliers and customers.
Need more information?